Quality reconditioned equipment for sale or lease.
Our used equipment is extremely affordable.  These quality balers and compactors are available for immediate delivery to your location! Harmony Enterprises supports its products by providing parts, manuals and technical support for 20 years after the manufacture date.
Our balers and compactors are recognized for their longevity and have been known to last well beyond industry standards. Investing in a used baler or compactor may be the wise choice to get the equipment you need today.
On A Tight Budget? All of our used balers and compactors can be purchased or leased.  Our lease option provides you with affordable fixed tax deductible monthly payments, and you own the equipment when the term is done.  Check out our current stock of quality reconditioned equipment that is Made In The U.S.A. today!
Current Equipment In Stock:
LIKE NEW – VC100 Vertical Compactors  VC100-108 & VC100-109
Charge Opening: 28" x 47"
Ram Force: 28,274 lbs
Container Size: 2, 4, or 6 cu yds.
Compaction Ratio: 4 to 1
Ground Or Chute Fed From Any Angle
Innovative Turret Design
Contact Us For Pricing
Harmony TB06 Compactyre Tire Baler 
Loading Door: 41" x 33"
Ram Force: 18,379 lbs
Container Size: One tire at a time
Compaction Ratio: Compresses tires to 1/3 normal size
Like New Demo Units
Limited Availability!
Contact Us For Pricing
M60CB Vertical Cardboard Baler
Bale Size: 30"x 60"x 51"
Bale Weight (OCC): ≤ 1,000 lbs.
Feed Opening: 24" x 60"
Ram Force: 50,900 lbs
Volume:  Large
Contact Us For Pricing
M42HD-0692 460V 3ph – Shrink Wrap Baler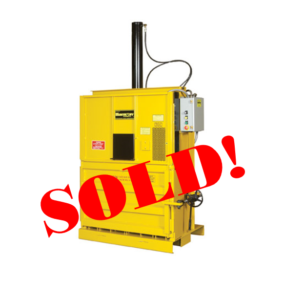 Bale Size: 22″ x 42″ x ≤ 30″
Bale Weight (OCC): ≤ 300 lbs.
Feed Opening: 19″x 42″
Ram Force:  41,350 lbs
Volume: Small-Medium
Contact Us For Pricing
ExtractPack Vertical Liquid Extraction Baler
Bale Size: 24"x 16" ≤ 24"
Bale Weight (Aluminum): ≤ 120 lbs
Feed Opening: 24″ x 21″
Ram Force:  56,550 lbs
Volume: Small
Contact Us For Pricing
Order Parts Click To Call Contact Us Today!