Harmony's Self-Contained compactors are the industry standard in quality compaction equipment. These innovative waste handling machines are designed specifically for both dry or wet waste.
The compactor and container are permanently attached to each other, utilizing the finest high quality steel plate and structural steel channel and tubing. When full, the entire unit is loaded onto a roll-off truck for transportation to the landfill.
Want to learn more about each of our long lasting models and how they are different from our stationary or vertical compactors?
Self-Contained Compactor Options: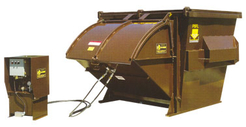 Harmony's self-contained compactors are available in sizes from 4-40 cubic yards.  The size you need depends largely on the type of waste you generate, the frequency that you create it, its weight, and your desired hauling schedule.
Ask us about our rental or lease programs! Read all about the Commercial Compactors By Harmony.
When you buy or rent from Harmony Enterprises, we utilize our Proven Process to provide you with the industry's most Innovative waste machines, the Lowest Total Cost of Ownership, and a True Partnership Approach.
Our Core Values of being Committed, Passionate, Innovative, Enhancing Our Shared Experience, and having the Courage To Make A Difference all center around our Core Purpose is Career, Community, Culture, and Company.
Harmony Enterprises lives these core values and is proud to have been named Family Owned Manufacturer of the Year by the Minneapolis-St. Paul Business Journal in 2020 and one of the Top Minnesota Manufacturers by beststartup.us in 2021.