For progressive businesses and organizations, "taking out the trash" is not just another daily task. Waste management leaders are always looking for ways that they can reduce their trash production, recycle more, and reduce waste hauling bills. Here is a closer look at how four different groups are handling their trash and recycling for better results.
Leading the Way to Less Trash and More Recycling
Channel One Regional Food Bank – Channel One Food Bank has wanted to invest in a cardboard baler for a long time, but simply did not have the space. They were able to complete a building expansion that doubled the space in their warehouse. They were also awarded a grant from Think Mutual Bank which helped to pay for the cardboard baler. They purchased the M60CB Vertical Baler from Harmony Enterprises Inc. for their warehouse and trained their volunteers on how to properly use it.
Product Used: M60CB Vertical Baler
Bardessono Hotel and Spa –
Nestled in Napa Valley, California, the Bardessono Hotel and spa is taking their waste management and recycling "off-the-grid". Bay Area Trash Compactor installed the P4FL trash compactor and M42BC compactor by Harmony Enterprises, Inc. at this LEED Platinum Certified Hotel last summer. The side-by-side solar powered compactor and baler combination is the first of its kind to manage the recycling and waste with no wired electrical hook up. They have been able to slash wast hauling expenses by 50% and increase the efficiency of their recycling program while reducing their CO2 emissions by 14 tons annually.
Products Used – Solar powered combination: P4FL Trash Compactor, M42BC Cardboard Baler
Kingdom Centre in Riyadh –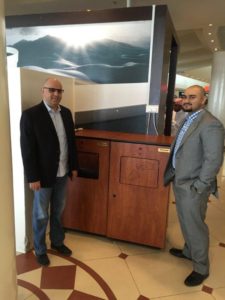 This high class hotel and shopping center in Saudi Arabia has top-notch recycling and waste management equipment to match. On the top floor in an Executive kitchen of Kingdom Centre, a 450SS Indoor Power Packer helps to manage the kitchen waste in a sanitary and efficient manner. In the Kingdom Centre shopping mall's food court, there are numerous SmartPack automatic trash compactors that keep the busy quick-serve restaurant area clean. In the underground parking lot, a M60STD vertical baler is used to manage the cardboard in the building, so it is ready for easy recycling. In the Four Seasons Riyadh Hotel (which is connected to the Kingdom Centre), an M60STD vertical baler is used to recycle both cardboard and plastic.
Products Used: 4500SS Indoor Power Packer, SmartPack Automatic Trash Compactor, M60STD Vertical Balers
Recycle our Waste Lewiston (ROWL) –
 In Lewistown, Montana, a town of just 5,000 people, the community is gathering once a month and making a difference. Before Recycle Our Waste Lewistown (ROWL) was started nearly 3 years ago, there was no place locally for people to recycle their plastic. This was bothersome to Rosemary Kent, Chairperson of ROWL, who strongly believed in recycling after living overseas for a few years (see video interview with Rosemary, here). Eventually with the grant money received from the Episcopal Diocese of Montana, local business contributions, and various donations – a baler, trailer, and generator were purchased, and ROWL was created. Last year alone, ROWL and the Lewistown community baled and recycled over twelve and a half tons of plastic!
Product Used: M30HD Vertical Baler
Harmony Enterprises, Inc. manufactures trash compactors and balers to help waste management leaders worldwide reduce their waste and maximize their recycling. We are also extremely passionate about taking care of our Earth by taking small steps and making big plans. If you are looking for a recycling or waste management solution for your business or organization, please contact us at (507) 886-6666 or fill out this simple form.
Interested in reading articles on recycling, reducing waste, and helping our global environment from Harmony Enterprises? Subscribe to our monthly e-newsletter here.