Sustainable Recycling Solutions (SRS) Haiti is the country's premier recycling company, focused on building a lasting industry, creating new jobs, cleaning up streets, and contributing to healthier communities. The recycling industry in Haiti used to be small, but has now grown substantially with organizations like SRS in place. In just a year, Sustainable Recycling Solutions has become one of the largest employers in the country! Stimulating both the economy and the environment, the founders of SRS have helped Haitians to collect $400,000 as they collect plastic from the streets.
Plastic Waste Problem in Haiti

Plastic and foam containers are contributing to a growing problem throughout Haiti, especially on it's coastlines and shores. In fact, Haiti's government announced a ban on importing, manufacturing, and marketing plastic, as of October 1, 2012. Government officials are trying to use the ban to clear the country's heaps of garbage. There is still a problem with existing garbage around the country so the need for ongoing recycling initiatives is vital.
How Sustainable Recycling Solutions Works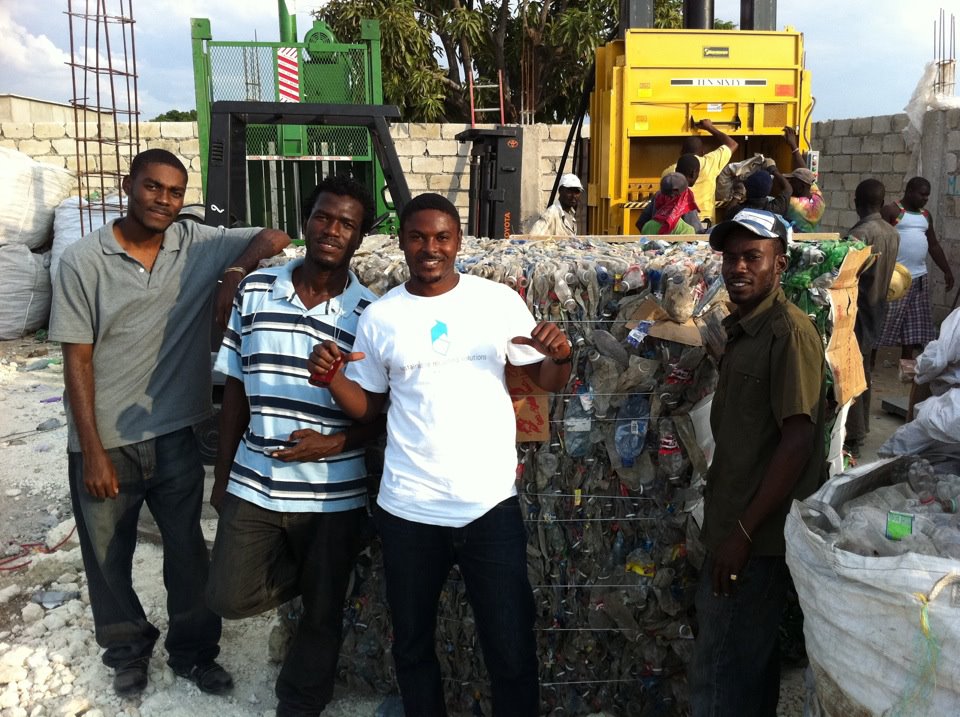 The people of Haiti can take pride in their communities, as they earn income collecting recyclable plastic bottles. They can turn the garbage into cash (earned per pound collected) at the recycling collection centers throughout the country. From the collection centers, Sustainable Recycling Solutions picks up and transports the recyclables to their processing facility, where they are baled for further processing. Sustainable Recycling Solutions uses a System Ten Sixty vertical baler by Harmony Enterprises because it is efficient and versatile.
Recycling makes Haiti more Sustainable
The benefits of organizations like Sustainable Recycling Solutions in Haiti are numerous. Haitians have already made a difference in helping to clean up the country by taking millions of pounds of recyclables off the streets. The recycling centers located all around Haiti also provide employment opportunities for thousands of Haitians. Taking part in protecting the environment, cleaning the streets and offering employment helps to keep the local neighborhoods healthy too.
In just one year, Sustainable Recycling Solutions Haiti collected 3 million pounds of plastic – over 60 million bottles! Learn more about SRS Haiti on their Facebook page.