More Than Just A Buzzword
Quality control is a big buzzword in manufacturing.  The Google definition of quality control is "a system of maintaining standards in manufactured products by testing a sample of the output against the specification."
If you think about it, that's a little scary – just a sampling?  When it comes to waste handling and recycling equipment, there is too much at stake for both the manufacturer and the customer for QC to just involve only a "sampling".
Successful manufacturers know the important role that quality control plays in customer satisfaction and profitability.  After all, if products don't work as advertised, customers won't be happy and sales will suffer.  Even worse, defective equipment can cause major issues in warranty costs and parts replacement.
The window of time that customers have to remove an old machine or simply prepare the space, floor, and electrical configuration for a new machine is limited.  Every hour without their waste handling or recycling equipment is money lost and can potentially hurt their bottom line. They simply can't afford production mistakes that require additional time for replacement parts to be shipped, technicians to be scheduled, or new installations to occur.
There is also an inherent safety liability when machines that produce that much force and pressure aren't tested prior to being shipped.
ISO Certified manufacturers like Harmony Enterprises ensure that each product is subject to stringent testing and quality control before being shipped.  Any non-conformities must be tagged and reworked to specification in order to pass inspection.
Test It Like You Would Use It
One of Harmony's most unique product offerings is the PERF-SSHB GEN 2 Beverage Extraction Baler.  This amazing piece of equipment perforates and bales large quantities of aluminum and PET, while safely capturing and draining the residual liquid product.  It is utilized by bottlers, breweries, and many other industries around the world.
These machines are extremely sophisticated, and like all Harmony equipment, are fully built and tested prior to being dismantled and shipped to the customer for onsite installation.
How do you test a beverage extraction baler that bales thousands of bottles or cans at one time?  That's where Harmony goes the extra mile.  For each GEN 2, we purchase pallets of bottled or canned product and run the machine through several cycles of operation.  The GEN 2 is tested at our facility the same way it will be used in the field.  The entire engineering, production, & sales staff is present during testing, capturing both video and photos of the operations process.
Our trained professionals inspect all aspects of the machine during this testing.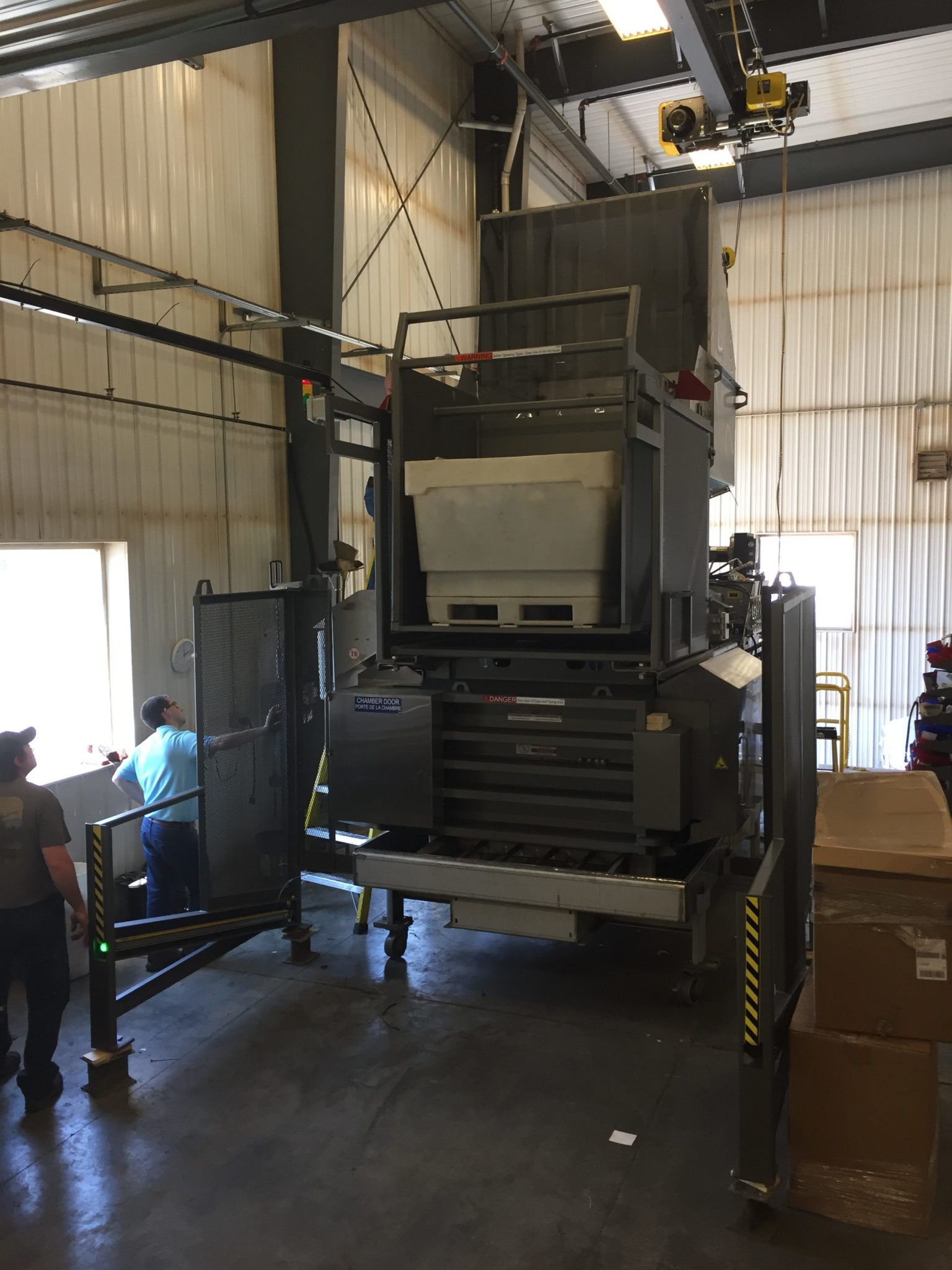 If any issue arise, the problems are identified and resolved quickly.
It is a lot of extra work and expense to do this testing, but our customers depend on us to provide them with the best products and services in the industry.  We owe it to them, and ourselves to make sure our innovative products lead in quality, efficiency, and functionality.
Our quality control testing of our GEN 2 baler is just another example of how Harmony Enterprises goes the extra mile.
Harmony Enterprises manufactures balers, compactors, and beverage extraction equipment.  Our products are tested to ensure their quality and your complete satisfaction.  If you would like to learn more about our full line of waste handling and recycling products, or any of our services, please call us at (507) 886-6666 or Contact Us today!