At Harmony Enterprises Inc., we manufacture recycling and waste management equipment, but we look at it as much more than that.  Our goal is to help make recycling and reducing waste easier and more efficient for schools, businesses, and factories, so it becomes second nature. As part of that goal, we strive to offer recycling resources and insight.  These are some of the quotes about recycling and sustainability that inspire us, in addition to these recycling quotes that we curated a while back.
12 Sustainability Quotes to Inspire Kindness to our Earth
"The greatest threat to our planet is the belief that someone else will save it."
– Robert Swan, Author
"Often when you think you're at the end of something, you're at the beginning of something else."
– Fred Rogers, Television Personality
"There is no such thing as 'away'. When we throw anything away it must go somewhere."
– Annie Leonard, Proponent of Sustainability
"When you put the whole picture together, recycling is the right thing to do."
– Pam Shoemaker, Author
"We cannot solve our problems with the same thinking we used when we created them."
– Albert Einstein, Physicist
"We do not inherit the Earth from our ancestors; we borrow it from our children."
– Native American Proverb
"We never know the worth of water till the well is dry."
– Thomas Fuller, Historian
"Recycling, packaging, businesses are changing all of those things because that's what consumers want." – Jerry Greenfield, Co-founder of Ben & Jerry's Ice Cream
"If it can't be reduced, reused, repaired, rebuilt, refurbished, refinished, resold, recycled, or composted, then it should be restricted, designed or removed from production."
– Pete Seeger, Folk Singer & Social Activist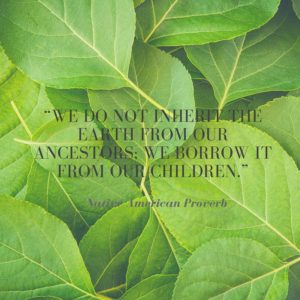 "We are living on this planet as if we had another one to go to."
– Terry Swearingen, Nurse & Winner of Goldman Environmental Prize in 1997
"Buy less, choose well."
– Vivienne Westwood, Fashion Designer
"At its core, the issue of a clean environment is a matter of public health."
– Gina McCarthy, Administrator for the U.S. Environmental Protection Agency
Click here if you are interested in reading more Sustainability and Recycling Quotes.
Interested in reading articles on recycling, reducing waste, and helping or global environment from Harmony Enterprises? Subscribe to our monthly e-newsletter here.