Harmony's January-March Product Spotlight
Get the best pricing on one of our most popular low profile balers, the M42BC Vertical Baler!
Cardboard and plastic waste is accumulating at a pace never before seen in the retail and residential housing industries.  Business owners and apartment building managers need an efficient and affordable solution to this growing problem.  Both of these valuable commodities can be recycled to create additional revenue where there once was a waste expense.
Some of the problems that prohibit people from utilizing a baler solution in their waste and recycling efforts include:
a lack of operational space
the inability to get equipment through confined location entrances to their stockroom
electrical supply constraints
safety concerns and ease of operation
overall cost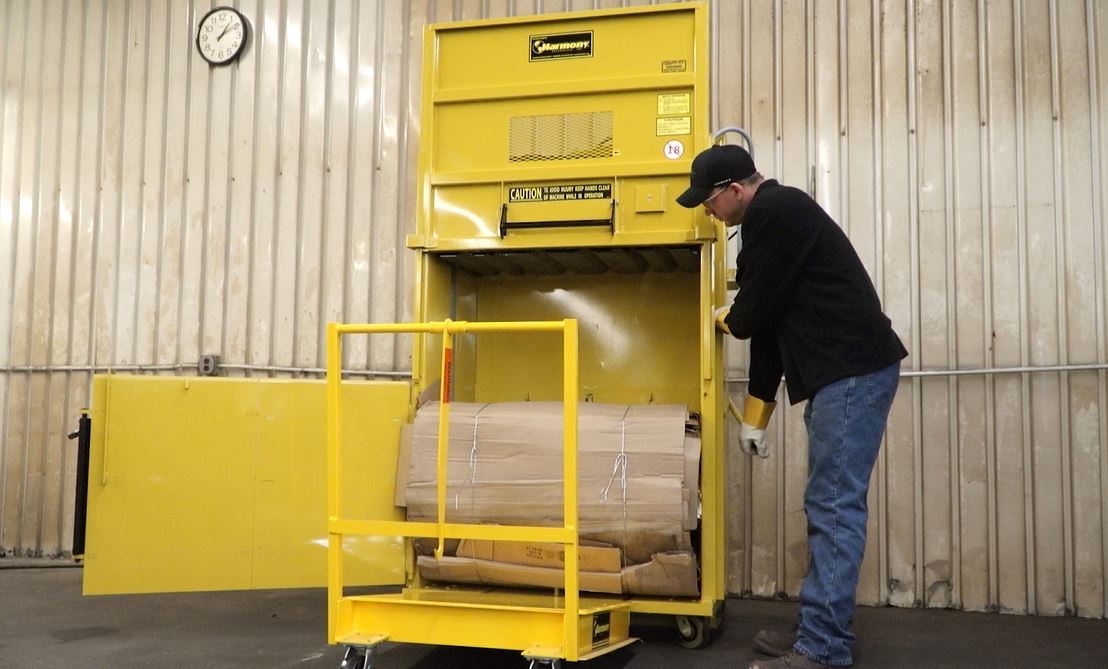 Our first Product Spotlight of 2018, the M42BC Vertical Baler, allows you to navigate past these hurdles and put the most convenient and efficient baler on the market to work for you today!
Here is how this amazing featured product eliminates these concerns:
If your retail location or apartment building has limited operational space in the stockroom or recycling area, no problem!  The M42BC is a low profile baler that takes up minimal space in terms of length, width, depth, and height.  This allows your operator plenty of room to load and bale the product, and safely remove it with the convenient Harmony Bale Cart.
Most people interested in a baler utilize buildings that are  not new constructions.  The ability to remodel structures to accommodate a new baling machine is not logistically or financially feasible for most businesses. This is where the M42BC Vertical Baler shines!  The M42BC is shipped on casters and can be rolled right from street level through a standard 3′ x 7′ doorway to its operating location.  With this Product Spotlight, you will not need to make any changes to your existing location in order to put this profit-making machine to use!
In addition to floor plan, most buildings have a preset electrical configuration.  Altering existing electrical to for a new baler is expensive and time consuming.  The M42BC is available in a variety of electrical configurations to meet any specifications worldwide.  Harmony can set your baler up to meet your exact needs and save you the trouble of changing out your electrical service.
All business owners are concerned with the safety of their employees.  The M42BC is constructed to meet or exceed ANSI and OSHA safety requirements.  The key lock switches and other built-in safety measures make this baler one that any trained individual over the age of 18 can operate in a worry-free manner.  Check out the ease of operation in our latest M42BC Video.
Finally, cost and budget concerns are key factors that keep many managers from making the final decision to acquire recycling equipment.  Harmony Enterprises provides assurance that your equipment investment will far outlast others on the market and will provide an immediate ROI for your business.   And, when you purchase or rent from Harmony Enterprises or Harmony Equipment Rental, you are afforded the Lowest Total Cost of Ownership combined with a True Partnership Approach well after the sale is made.
Harmony Enterprises manufactures balers, compactors, extraction, and full product destruction equipment for the waste handling and recycling industry.  Our Quarterly Product Spotlight on one quality featured product or service and demonstrates the positive impact it has for our customers and the overall environment.  We invite you to Experience Harmony and our latest Quarterly Product Spotlight, the M42BC Vertical Baler.  If you have any other questions about a featured product, or would like to learn more about our waste handling and recycling solutions, please Contact Us, or call us at (507) 886-6666.